Current Informations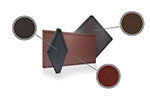 New nubuck surface
BOEHME® SYSTEMS aluminium shingles now are available featuring a new look: The elements in standard colours Kordia Red, Goura Grey and Criollo Brown with their special textured paint are available in a new nubuck surface. That does not only give the shingles a unique look, but also is scratch and abrasion-resistant.
Elegant look with metal shingles
An extension of the sports arena in Holon (Israel) is currently being built. Highlight of the new complex are BOEHME® SYSTEM'S classic shingles incorporated into the façade's design. These set the building in scene architecturally and create its overall elegant look.