It can look nice, too
BOEHME® SYSTEMS presents information to experts at the trade fair "HAUS 2014" in Dresden
At the recent workshop "Solar Technology in Buildings – it can look nice, too" by the European Research Association for thin films, it was all about innovative and energy-efficient building shells. The event was held as part of the trade fair "Haus 2014"in Dresden. Among the speakers was Andreas Stengl – managing director of BOEHME® SYSTEMS Vertriebs GmbH.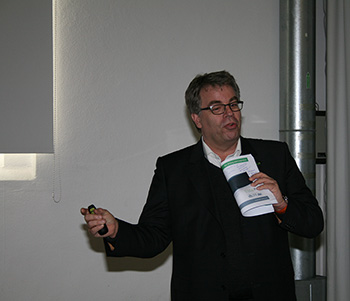 Realizing innovative solutions for roof and façade requires product systems, which excel in energy efficiency. In his speech on BOEHME® SYSTEMS' multidimensional formable photovoltaic element cocu®PV, Andreas Stengl emphasizes that energy efficiency does not equal an unpleasant appearance. Cocu®PV is a building element with integrated photovoltaic, used to realize holistic building shells. Additionally energy generation is not limited to hours of sun with the element.
BOEHME® SYSTEMS' new component offers architects and designers a maximum of energy efficiency as well as nearly unlimited creative potential. Because of its elasticity cocu®PV even enables the realization of unusual, organic shapes. The photovoltaic cells are integrated into the element, so that no additional photovoltaic elements are needed. Like that the building's exterior is not affected. The innovative system solution hits the nerve of time - following the presentations, attending architects, designers and building engineers enquired about cocu®PV in many individual consultations.