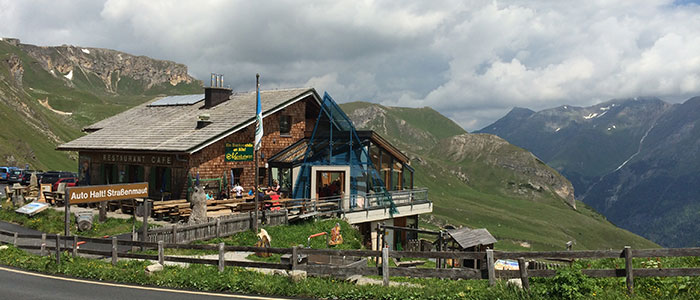 Grossglockner roof refurbishment
Probably the highest roof construction site in Europe
The guesthouse Fuscherlacke at the Grossglockner is one of the highest roof construction sites in Europe at the moment. In the course of its refurbishment the building's saddleback roof will be tiled with BOEHME® SYSTEMS' classic shingles. As a result the building will be protected from future weather strains. In addition to that the combination of traditional look and modern material is a special feature of the roofing project.
When refurbishing roofing the altitude naturally plays a huge role. However, when the building itself is situated on 2262 metres, entirely new challenges emerge for the construction as well as the material. The guesthouse Fuscherlacke is located in that exact impressive altitude on the Grossglockner. Construction work in mountain regions in general requires a lot of experience. Long-term planning is essential in order to ensure a smooth process and the use of resilient material is crucial. BOEHME® SYSTEMS' classic shingles are best suited for all of these high requirements. Their look can be altered because a wide range of material and colours can be chosen for the shingles. It is also possible to have models custom-made.
The guesthouse's shingles were manufactured to look like black slate stone in order to create a traditional look whilst using modern material. Moreover the shingles are mounted in an innovative way, which results in one closed-up roof surface once the tiling is finished. Like that water retention can be prevented so that visitors and inhabitants are protected of the Alp's special weather conditions such as strong snowfall and winter storms.