Traditional material now used in modern building envelopes
More design options thanks to metal shingles
Whether it concerns solutions for façades or roof coverings - architects and planners have for years now been using metal – a tried-and-tested material. Nowadays, this traditional material is used mainly where innovative and modern building claddings are called for: because a building that has been clad with metal shingles ends up looking rather special and elegant. It is this particular combination of traditional craftsmanship and innovative shaping that also characterises the Classic Shingle range from Boehme Systems.
Roofs and façades have to withstand all sorts of weather impacts over many years. In this respect in particular the traditional building material metal scores highly, due to it being very robust and because it has a high load capacity. Furthermore, the fact that it can be easily moulded means that even shapes that are rather outlandish can be realised. A feature, which in terms of design freedom, is rapidly gaining in importance. Because modern building claddings not only need to be functional, they also have to look really attractive. Based on these advantages offered by the material, Boehme Systems has been using metal extensively over recent years and has steadily expanded its metal-based product portfolio. In the Classic Shingle range planners and architects now have a huge assortment of colours and shapes at their disposal, fulfilling almost any design requirement there is. Different options for the substructure, as well as special clips for easy fastening, ensure that the shingle itself does not need to be encumbered with holes for screws or other fixing mechanisms – common areas for potential water ingress – are thus being eliminated. Production and workmanship result in the metal shingle being a sustainable and cost-effective product that produces a lasting building envelope.
[13-24 Design_Freedom]
Thanks to being easily mouldable, even quite eccentric shapes can be realised with the material metal.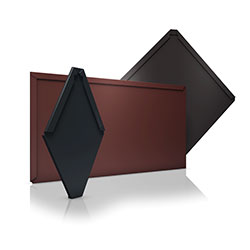 [13-24 Classic_Shingle]
Combining traditional craftsmanship and modern shapes – the Classic Shingle product range from Boehme Systems.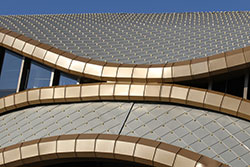 [13-24 Look]
Metal shingles in various shapes and colours produce unique building envelopes.
Fotos: Boehme Systems Vertriebs GmbH