Specialist for metal building envelopes
Boehme Systems: From small plumbing business to international enterprise
Whether façade solutions or roofing – engineers and architects appreciate the advantages of metal. The product portfolio of Boehme Systems demonstrates that this long established material can also be used for innovative solutions aimed at integrated building envelopes. The company, which is headquartered in Munich (Germany), developed from a small plumbing business into an enterprise realizing architectural ideas on an international scale – ranging from the renovation of residential buildings to stadium construction. The material metal is central for this purpose and further developed to a system solution for the entire building envelope or combined with photovoltaic systems. To take up international architectural trends, Boehme Systems can take advantage of a worldwide partner network, which enables direct on-site contact with clients and architects.
Due to its high load capacity and robustness, metal is well suited for building envelopes. Its stability yet easy formability affords a high degree of creative freedom and equally allows realising spectacular and sophisticated solutions.
The advantages of this material were already appreciated by Holm Böhme, who founded a plumbing business in Boxdorf (Germany) in 1984, which quickly made a name of itself as both assembler and manufacturer. The company quickly evolved into the "Böhme Building Services GmbH", which, among other things, was involved in the renovation of the Dresden Frauenkirche (Church of Our Lady) as well as the planning and implementation complex residential, commercial and office building projects.
Today the original plumbing business has advanced to the international enterprise Boehme Systems Vertriebs GmbH, which develops building envelope solutions for stadiums, universities as well as residential and commercial buildings worldwide. The central building material is now used for new, innovative applications and combined with modern technologies. The traditional metal shingle was developed further and, for example, supplemented with roof drain systems. At the international trade fair BAU 2013 in Munich, Boehme Systems also presented "cocuPV", a novel, formable photovoltaic element that was awarded the "11th Innovation Prize for Architecture and Civil Engineering". It permits unusual, organic geometries and therefore allows combining creative freedom and energy efficient construction. Sustainability plays a pivotal role at Boehme Systems. Internal projects as well as product development and manufacturing are always assessed for efficiency and environmental sustainability.
Internationally proven product portfolio
Boehme Systems product solutions have proven themselves on the international market. Façade elements, shingles and roof gutter systems are applied in various and architecturally ambitious projects, including the construction of a stadium in Borisov (Belarus) and the construction of the "Resorts World" in Sentosa in South East Asia. For the building envelope of the sport spark Stožice in Ljubljana (Slovenia) the architects also opted for the metal shingle from Boehme Systems.
An international network with many partners additionally strengthens the company. This includes Boehme Systems Inzenjering in Pula (Croatia) with advanced skills and expertise in project planning. Other country representations were established in Canada and Singapore to intensify the presence and support of architects on site. Given the international, globalised development of architectural trends and sustainable construction techniques, Boehme Systems continues to expand its global network. New products for the respective target markets are already being developed.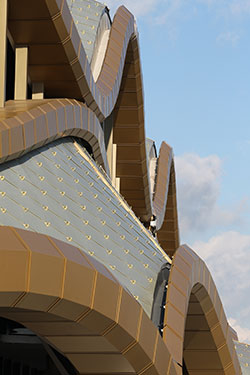 [13-16 Ljubljana]
Boehme Systems is a preferred provider of systems solutions for architecturally sophisticated projects, including the sport park Stožice in Ljubljana.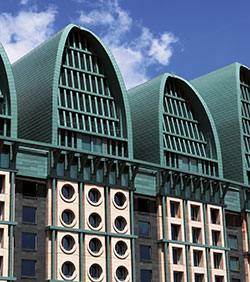 [13-16 Sentosa]
"Resorts World" in Sentosa in South East Asia: Construction and materials have to withstand tropical rains, high wind pressure and strong solar radiation.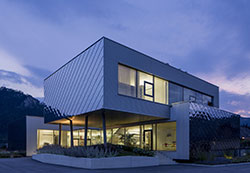 [13-16 Company headquarter]
Modern contemporary architecture: This company headquarter near Graz (Austria) relies on metal shingles from Boehme Systems.
Fotos: Boehme Systems Vertriebs GmbH