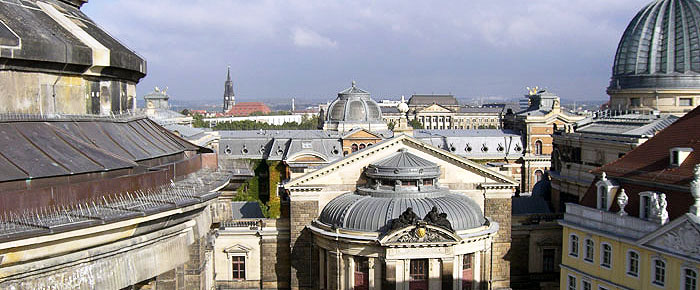 History
From a small plumbing firm …
In 1984 Holm Böhme set up shop as a plumber in the Saxon town of Boxdorf. He quickly established a good reputation for all things around plumbing and household building services. With great creativity, a knack for innovation, and a reputation for reliable services, the installation firm continues to take on new challenges on a daily basis.
… to a successful medium-sized company …
The firm keeps growing steadily and is eventually renamed "Böhme Haustechnik GmbH". Larger projects such as the restoration of the Dresden Frauenkirche are completed with great success. The medium-sized enterprise now also increasingly takes on the task of project planning and the realisation of complex residential, commercial or office building projects. In 2008 the aspects "household building services/sanitary installations" and "roofs/façades" are divided into two separate business divisions. Holm Böhme starts to focus on developing building cladding solutions. First international projects are secured and are completed with great success. In 2009 Böhme Haustechnik GmbH becomes BOEHME® SYSTEMS GmbH.
… to the internationally operating company of today.
In order to meet the diverse challenges of a company that sells both at home and also in the global marketplace, an independent sales and distribution arm is founded in 2010, called BOEHME® SYSTEMS Vertriebs GmbH, managed by Andreas Stengl (Managing Director). In 2012 the company attends the international trade fair for Timber Construction, Holzbau, Interior Works, Roof and Wall, "DACH+HOLZ" for the first time, and introduces ideas for all-round claddings for buildings to a professional trade audience. The Classic Shingle range is complemented by a roof drainage system. At "BAU" 2013 BOEHME® SYSTEMS launches a novel, formable photovoltaic element, "cocu®PV", which manages to garner the "11th Innovation Prize in Architecture and Construction" at the tradeshow. In the same year the company moves to new prestigious offices in Munich. Further trade fair attendances both in Germany and internationally follow. By now the façade elements, shingles and roof drainage systems are seeing a rise in global popularity and are being used in many a sophisticated architectural project. An international network with a solid number of partners helps to strengthen the company's position even further. This network also includes BOEHME® SYSTEMS INŽENJERING d.o.o. in Pula (Croatia), which has a reputation for excellence in project planning. Country representations in Canada and Singapore are also established in order to strengthen the company's presence in these markets and in order to be able to give greater support to architects 'on the ground'.